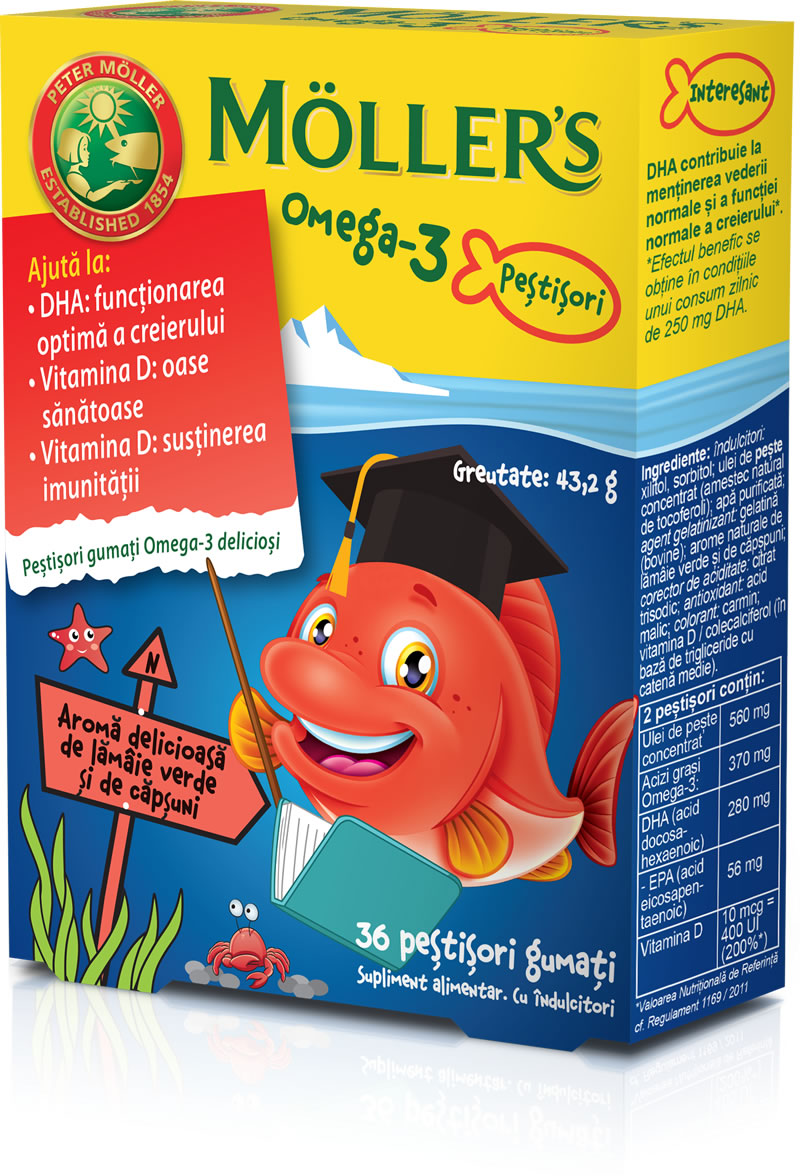 36 chewing jelly fish
Möller's has been an expert for natural Omega-3 for over 165 years, and all of its products are of exceptional quality. Möller's Omega-3 jelly fish with a pleasant strawberry flavor contains natural omega-3 essential fatty acids (DHA and EPA) and vitamin D.
Möller's Omega-3 fish provides the required daily intake of Omega-3 and vitamin D.
A pleasant strawberry flavor that children love.
Has no odor or taste of a fish!
No artificial colors!
Dosage and usage:
Recommended daily dose for age of 3 years and adults: 2 chewing jelly fish a day.
2 jelly fish contains:
Concentrated fish oil
560 mg
Omega-3 fatty acids
370 mg
– DHA (docosahexaenoic acid)
280 mg
– EPA (eicosapentaenoic acid)
56 mg
Vitamin D
10 μg – 400 IU (200% *)
* Nutritional Reference Value
Contributes to maintaining normal health
DHA and EPA contribute to normal heart function.
DHA contributes to the maintenance of normal brain function and vision.
Vitamin D contributes to the normal function of the immune system and the maintenance of normal teeth.
Norwegian quality from 1854
Möller's is a guarantee for the highest quality products. Möller's does not compromise when it comes to quality. They contain Omega-3 from fish, the best documented source of omega-3 polyunsaturated essential fatty acids. We are fully committed to our work, producing the best products for your health since 1854, when the Norwegian pharmacist Peter Moller revolutionized the production of cod liver oil. Its innovation in the extraction process – the method of steam extraction, is still used today and the oil obtained in this way is particularly refined, keeping all the qualities of Omega-3 fatty acids and vitamin D unchanged.
Möller's – Natural and perfect ❤
Customer reviews:
"The best product with Omega for kids, we are already using the one with lemon taste, I would really love to try the new one with green apple taste 😊"
– Slagjana
"Thanks to this extraordinary Moller's product, which for me is the best, we improved the complete blood count of my two-year-old daughter. It is also great for immunity, and I drink it with her. The taste is beautiful. I recommend it from my ❤ "
– Dragche
"We are currently using it. Highly satisfied.❤❤❤"
– Meri
"Great product, tasty and useful. We use it and we are extremely satisfied.😊"
– Dragana
"We have been already using lemon flavored Mollers for two seasons and we are very pleased – it has a positive effect on both immunity and appetite👍"
– Radica
"My kid immediately accepted the lemon flavored Mollers and now he is asking for it himself. Love at first taste :-)"
– Elena
"I'm using it and I'm very satisfied and I like to drink it. Otherwise, I had problems with other products that smelt like fish."
– Ana